2023 Iowa Boat, RV and Vacation Show Seminars
PLEASE SCROLL DOWN FOR THE SEMINAR SCHEDULE
James Lindner
Growing up in the world of sport fishing, James Lindner has filmed and fished from the Arctic Circle to the Gulf of Mexico, and from the Atlantic to the Pacific coasts and just about every place in between. As a renowned multi-species fisherman, James has few equals; and his prowess in the world of musky fishing is legendary. Today James is co-host of Lindner's Angling Edge and Fishing Edge Television shows and CEO of Lindner Media Productions.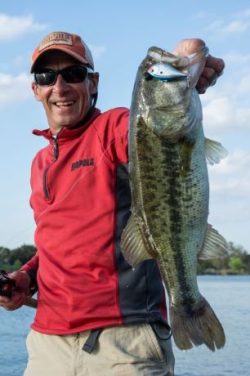 Recognized as one of the best directors and producers in the outdoor industry, James lives, eats, and sleeps fishing. In 2008, James was inducted into the Freshwater Fishing Hall of Fame as a Legendary Communicator for his outstanding achievement in the realm of sport fishing. In 2003, he was also honored as the Rapala Angler of the Year and has been inducted into the Minnesota Fishing Hall of Fame.
If anyone has cut his teeth on the handle of a fishing rod, then James surely has. In the early days, he had traveled with Ron and Al on their many filming adventures. In 1969, James at the age of 10 was Al's boat partner in the very first television segment that Al had ever produced. Following in the family tradition, James served his apprenticeship as a guide starting at the age of 14. He was well booked every summer through his teenage years. Later in college, he spent his summers guiding at a Canadian camp, as well as filming with Al and Ron.
Jeremy Smith
Jeremy has been fishing since he was old enough to hold a rod and reel. From an early age his passion for fishing has never stopped growing. He has an education from Gustavus Adolphus College (Biology/Business) and Bemidji State University (Education). Throughout the summers of his college years, Jeremy was a fishing guide in northern Minnesota, specializing in musky fishing. Upon graduating from college, he dove head first into the sports fishing world, and has been there ever since.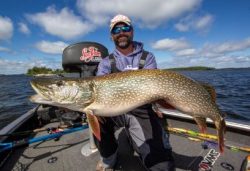 Since then Jeremy has worked in almost every element of the business: magazine sales, television sales, magazine writing and editing, television editing and producing, tournament organization, still photography, videography and on-camera talent to name a few of the hats he has worn.
Jeremy loves to catch anything that swims and tries to take full advantage of the best bite going. Given the time, he loves going searching for new water off the beaten path. Whether it is for largemouth, smallmouth, muskies, cats, sturgeon, lake trout, whitefish or carp, anything is fair game.
Jeremy has long worked with Lindner Media on the production of much of their commercial work. He has also operated as the field director for the FLW Bass Tournaments that Lindner Media produced, and assisted with many of the other television operations. Today, Jeremy, when he is not appearing on camera, on one of the many show offerings that Lindner Media produces, he is very busy as executive sales and marketing coordinator. In this capacity he deals with all of the Lindner Media marketing partners and client.
Iowa Boat, RV and Vacation Show Seminar Schedule
Friday
4:00-4:30         Tactics for Walleye's in any condition " Finesse vs Reaction "
4:30-5:00         Drop Shot fishing for panfish
5:00-5:30         Mega Live  "Why Track Fish"
5:30-6:30        What is 2D Imaging Down Imaging, Side Imaging 360 Imaging and Live Imaging
6:30-7:00         Ask the Pro…Q & A
Saturday
10:30- 11:00    Kids Seminar
11:00-11:30      Vertical jigging with traps and blade baits
11:30-12:00     Mega Live imaging "Why track fish"
12:00-12:30    What is 2D Imaging/ Down Imaging/Side Imaging /360 Imaging and Live Imaging
12:30-1:00      "Why so many get lost at the boat" Learn how to properly net Walleye's & Pike
1:00-1:30        Rubber vs Nylon Nets
1:30-2:00        Night Fishing Trolling tactics vs daytime presentations
2:00-2:30        7' 8' 9 foot rods "What's a person supposed to use? Specific Rods and Action
2:30-3:00        Ask the Pro…Open question for your personal needs
3:00-3:30         Break
3:30-4:00        Tungsten for Panfish and learn drop shotting too.
4:00-4:30        On vacation and live baits are scarce. Don't let the day be ruined.
4:30-5:00        What is 2D Imaging/ Down Imaging/Side Imaging /360 Imaging and Live Imaging
5:00-5:30        Mega Live Imaging
5:30-6:00        Vertical jigging with traps and blade baits
Sunday
10:30-11:00      Tactics for Walleye's in any condition "Finesse vs Reaction"
11:00-11:30      "Why so many get lost at the boat" Learn how to properly net Walleye's or Pike
11:30-12:00       Ask the Pro…Q & A
12:00-12:30      Mega Live  "Why Track Fish"
12:30-1:00        What is 2D Imaging Down Imaging, Side Imaging 360 Imaging and Live Imaging