2024 Iowa Boat, RV and Vacation Show Seminars
PLEASE SCROLL DOWN FOR THE SEMINAR SCHEDULE
Ted Tekasaki

A Fishing Hall of Fame Legendary Angler, Ted is one of the top competitors on the National Walleye Tour. Ted won the prestigious Professional Walleye Trail (PWT) Classic Championship in 1998 and the 1995 PWT Top Gun Angler Award. In 2002, he smashed the all time, one day PWT tournament record, which still stands today, with a limit of 5 walleyes that weighed 53.2 pounds!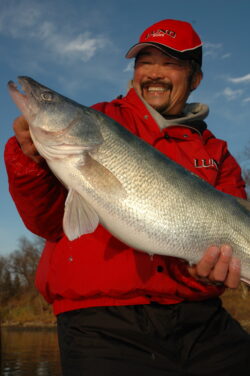 From 1998 to 2008, Ted was the President of Lindy Fishing Tackle, on the nation's largest freshwater fishing tackle manufacturers. During that time, the company doubled revenue and quadrupled profit under his leadership.
He was also a part of the Master's Walleye Circuit (MWC) Team of the Year in 1991. His credentials include qualifying for the MWC Championship 5 times, the PWT Classic 11 times, and has made it to the FLW Walleye Tour Classic 7 times, with several top ten's to his credit.
In addition, Ted was a part of the team that won the coveted 1993 Mercury National Tournament held on Lake Winnebago, Wisconsin.
He has been featured in many national outdoor magazines, has conducted hundreds of walleye seminars across the Midwest, hosted numerous TV shows and is considered one of America's Walleye and multi-species experts.
Steve Miller
Steve Miller is a family man and an avid outdoorsman, with over 30 plus years of experience fishing walleye tournaments. Steve started out fishing tournaments, traveling his home state competing on the Iowa walleye tournament trail with his dad, then later with his wife, Becky.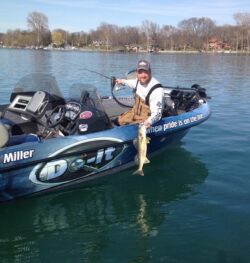 In 2011, Steve began fishing tournaments at the professional level touring the FLW circuit. Steve has toured the Cabela's National Walleye Tournament Trail (NWT) for many years along with some MWC, Walleye Angler Trail, Illinois Walleye Trail and the South Dakota Governors Cup events. During the winter months, Steve is active working a variety of sports shows, speaking at seminars, and working the floor, talking fishing and products with visitors and is a long-standing member of the NPAA. Steve and his wife are also co-founding members of the CRANDIC walleye fishing club in cedar Rapids, Iowa city area in Iowa. The club is dedicated to education, conservation, and competing in fishing tournaments. Steve continues to work with companies testing, educating and promoting products through YouTube videos and other media sites. Steve and his family also donate their time to a local charity event each year called Fish-o-Ramma created by the Boys and Girls Club of Iowa.
Check Back for 2024 Seminar Schedule